The Three Mega Trends CISOs Need To Watch
CISOs Today Face Unprecedented Opportunities And Challenges
Businesses are acquiring new applications and generating new business data at a faster pace than their security teams can keep up. There isn't a day that goes by without another news headline about the latest data breach. Meanwhile, the rise of data privacy regulations in the U.S. will have a far-reaching impact on the ways in which businesses operate their systems, handle data, and work with customers, vendors, and suppliers. The risk landscape is changing quickly, but the full impact of these changes is not yet obvious.
In this brief, we'll dive into three related mega-trends, the new challenges they bring to CISOs, their team, the entire organization, and why it's important to prepare now. We'll also address how organizations can meet these rising challenges with new approaches and tools.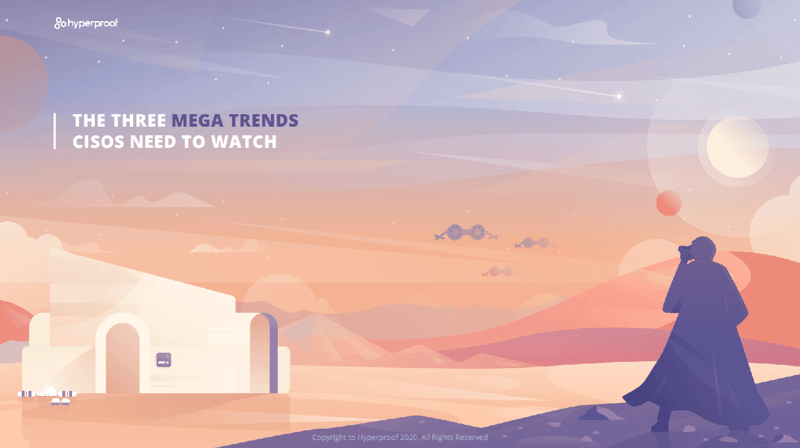 Download Your eBook Today
What will be covered in this whitepaper:
In the next several years, every organization will grapple with challenges created by the new risk landscape. Navigating it successfully will require organizations to take on new approaches to keep their critical business systems secure and their customers' information private. At the same time, we expect businesses to take a closer look at the security risks posed by their supply chain and apply more stringent criteria to evaluate potential vendors before bringing new applications into their firms. We believe that these trends are here to stay, and they will have a disruptive impact on how organizations approach security, meet their legal obligations, build trusted relationships with one another, and grow revenue.
Key Trends:
Cybersecurity risk is on the rise due to multiple factors
Newer data privacy laws mandate certain security controls and new vendor management obligations
Organizations will make changes in the way they build trusted relationships with one another